A Newport Beach, CA family in Harbor View Homes just got a brand-new water filter for their home.  This custom whole house water filter will easily cover the 3,500 square foot home and deliver clean clear water from every faucet.
As we often find nowadays, members of the family had some health related concerns they wished to address.  PURE Elements Water filters have become successful with helping many people ease or erase their water quality concerns.  The fact that each filter is designed specifically to combat contaminants commonly found in exact geographic locations has proven superior to generic filters found online.  The vast number of chemicals found in our tap water overwhelms most filters.  They become useless within a short period.  That does not happen with our custom filters because the correct media and tank capacity are installed.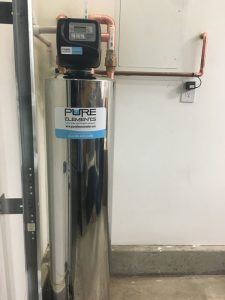 For this particular installation, the hard water issues so common in Orange County California were also an issue the homeowners wish to combat.  To address all of their concerns a 1 ½" commercial system and our catalytic converter were installed in this newly built home.  The plumber pre-plumbed the home to ensure a pristine installation.