We have been very concerned about the transition from standard copper plumbing to plastic PEX tubing in homes. There are continual reports of potential health risks, and aspects of off-gassing, that are becoming more and more public.
We are disturbed by the use of plastic and the exposure of families especially young children to these potentially carcinogenic chemicals. The tubing is off-gassing, creating bio-film internally and some types of PEX have lower burst pressures after they get brittle.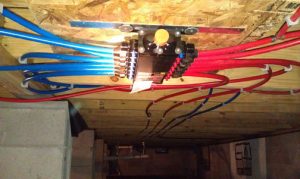 We are not fans of the PEX Tubing because of these concerns, and it is clear from all independent reports that nobody really knows what the health challenges are going to be with long term use.  Check out the links below to three articles that support the basis of our concerns.  Read them and form your own opinion.
Purdue University – PEX leaching chemicals into the Water
Our goal at Pure Elements Water is to protect any plumbing infrastructure that is in plastic by removing the chemicals that could cause premature failure or possibly lead to higher levels of off-gassing.
If you're considering building a home remodeling a home or re-piping a current home, please be sure to do the research and make your own determination. Or call us and we'll be happy to answer questions.  We are here in Orange County to help and educate you on making the best decision for you and your family.