CRYSTALCLEAR WATER IS NOW PURE

We have filtered and improved water in Cochella Valley homes since 2002.
Just as we're transparent with our water purity, we're also transparent with our product lines. Our CrystalClear Home water systems have been recognized and proven in the Coachella Valley since 2002. Same great fully custom, water filtration and conditioning systems—just a different name, developed for a different set of water issues. Pure Elements Water is consolidating our product lines under our HealthyHome brand to better serve you.
HealthyHome Water Filtration and Salt-Free Conditioning Systems:
Feeling is believing – No more bathing in harmful carcinogens and drying agents. Hair and skin are heathier, and soap rinses off squeaky clean.
Drink up – Taste the exceptional water quality for consumption, ice and ingredient uses with a slightly alkaline pH and natural mineral content intact.
Rock hard – Our HealthyHome Systems provide enhanced reduction of hard water issues throughout the interior of your home.
Green up – Enjoy vibrant, thriving plants, lawn and trees with less fertilizer and water, plus no hard water scale in irrigation systems.
Take a swim – Our Total Property System benefits swimming pools, water features and spas by reducing buildup on surfaces while protecting heaters and pumps.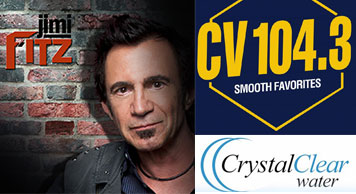 As heard on CV 104.3; Jimi Fitz and his wife Wendy have been highly satisfied customers for over 15 years with their CrystalClear/Pure Elements' "Whole House Water Filtration System".

Fitz has been nominated for "Radio Personality of the Year" by the national industry trade magazine Radio & Records, and voted "#1 Air Personality," by the readers of Palm Springs Life Magazine. Join Fitz each weekday morning from 6am - 10am for the smoothest wakeup in the Coachella Valley.
Make my water wonderful.
Call (866) 880-4420 or fill out the form below and we'll contact you.